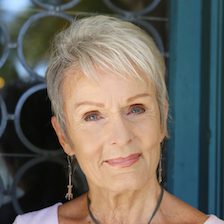 In 1991 at just 23, Sally Raymond's eldest son Jon gunned his car into a retaining wall to be instantly killed. The shock catapulted this new psychotherapist on an arduous journey of personal retrospective and extensive research which just culminated in her recently-released book, The Son I Knew Too Late: A Guide to Help You Survive and Thrive This book is written to help parents, sufferers, loved ones and friends knowledgeably support young people's individual stability, progress, inner growth and resilience through all stages of childhood, adolescence, and adulthood.
Sally's raw honesty in this epic book on parenting and loss is a big wake-up call for all of us as adults and parents to own our mistakes so we can move forward with love and courage." ~ Muna A.
Since his suicide, Sally has been on a mission is to tell Jon's stories in a way that will help others avoid what he and she did not. For the truth is, all that has been done to prevent suicide isn't working. Today suicide is of critical and burgeoning proportions, not only in America but worldwide.
The proof?  Suicide recently rose to be the second leading cause of death among Americans aged 15-24. This statistic is especially chilling given that it has never before happened. Today, only accidents kill more youth than the number of youth killing themselves. Raymond's book is a life "thrival" guide and suicide prevention resource for parents, teachers, and those who work with youth: a first-of-its-kind blueprint for taking action to save lives at any age.
Sally's book is available on Amazon: The Son I Knew Too Late: A Guide to Help You Survive and Thrive  and is also available at Barnes & Noble).   You can also get a personally signed copy by ordering directly from the author below.